KICK-START YOUR 2021
TAKE BACK YOUR HEALTH WITH OUR EASY-TO-FOLLOW FOOD, EXERCISE AND WELLNESS GUIDES. MAKE THIS THE YEAR OF A HAPPIER, HEALTHIER YOU!
System 21: What You Need To Know
Here's everything you need to know about Dr. Oz's Mediterranean-inspired intermittent fasting plan for whole-body wellness.
WHAT IS IT?

System 21 is an easy, fun plan created just for you to kick-start the New Year. This Mediterranean-inspired plan utilizes intermittent fasting and early morning exercise to help you reach your weight-loss and health goals faster than before.
HOW CAN IT HELP ME?

Following the daily food, exercise and wellness guides can help you lose weight and lower your blood pressure, fasting glucose and bad cholesterol.
WILL I HAVE TO CHANGE MY DAILY ROUTINE?

You may be eating at different times or turning off social media a little earlier, but we'll be with you every step of the way! We've got a schedule checklist so you know exactly what you'll do each day.

SYSTEM 21 TO-DO LIST.pdf
WHAT KIND OF FOOD WILL I EAT?

Real food that actually tastes good! The Dish crew put together a ton of recipes packed with meat, beans, grains, vegetables and fruits, and you can find them here (SYSTEM 21 RECIPES … CHECK THEM OUT ). It's all the healthy stuff your body needs without sacrificing flavor. Here's a grocery list and snack list to help you stock up at the store with the food you'll need — including dessert and drinks! Did we mention you also get a weekly cheat day?

SYSTEM 21 SHOPPING LIST.pdf
SYSTEM 21 SNACK LIST.pdf
HOW OFTEN WILL I EXERCISE?

Every morning with our celebrity trainers and fitness experts. They'll lead live, customized classes for you that will get you up and moving with both low-impact and high-intensity workouts. Connecting your body and your mind, they'll help you build strength from the inside out.
ANY OTHER BENEFITS?
System 21 will also help you sleep better and reduce stress — two things we could all use after 2020! Of course, we've got the tips for a good night's rest and ways to calm your mind.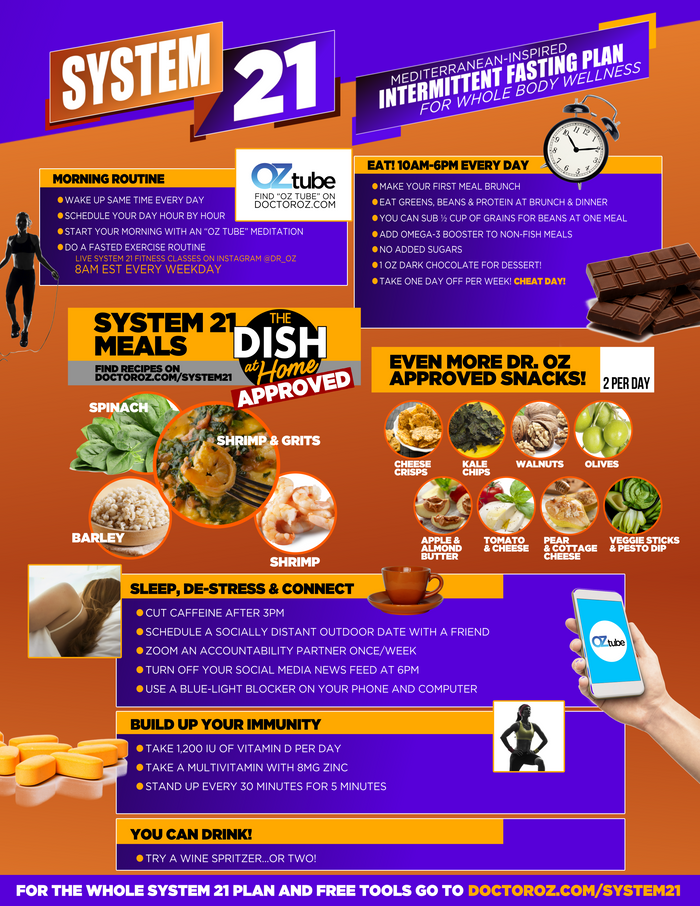 Download and print our System 21 plan below.
SYSTEM 21 ONE SHEET.pdf
Your System 21 Goals
Dr. Oz's plan can help you lose weight and improve your overall health.
Follow our trusted plan and you could see these results…

Waist measurement: less than 35 inches
Blood pressure: below 120/80
Fasting glucose: Under 100
LDL cholesterol: Under 100

Download and print our System 21 plan below.
SYSTEM 21 ONE SHEET.pdf
Your System 21 Shopping List
Take this list to the grocery store and stock up for all of our amazing recipes and meal plans!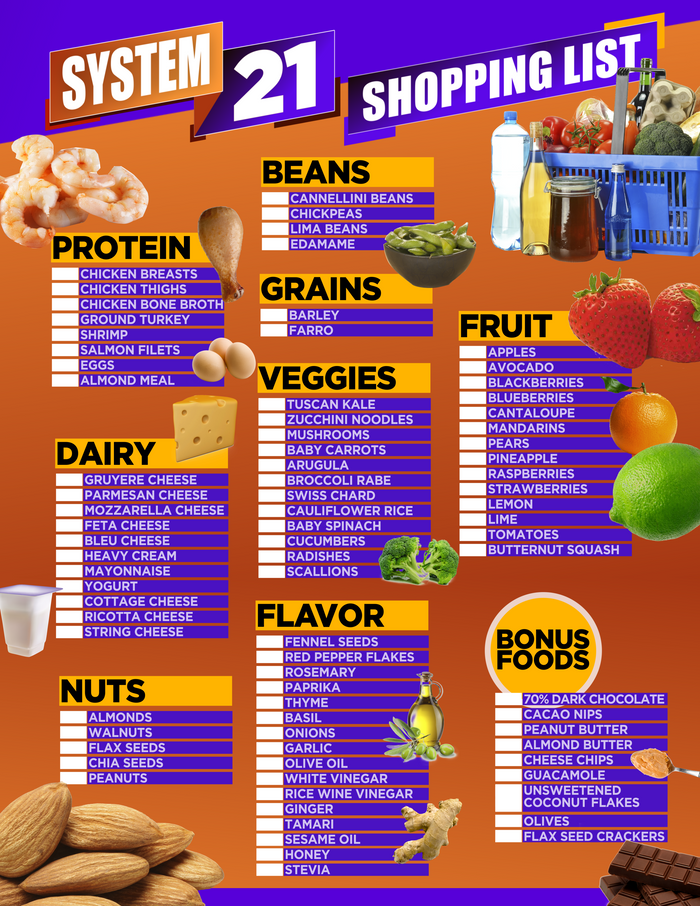 Download and print our shopping list below.
SYSTEM 21 SHOPPING LIST.pdf
Your System 21 Daily Checklist
Stay on track with this daily schedule and never forget when to eat or get up and move. Check off each step as you go and watch your progress grow.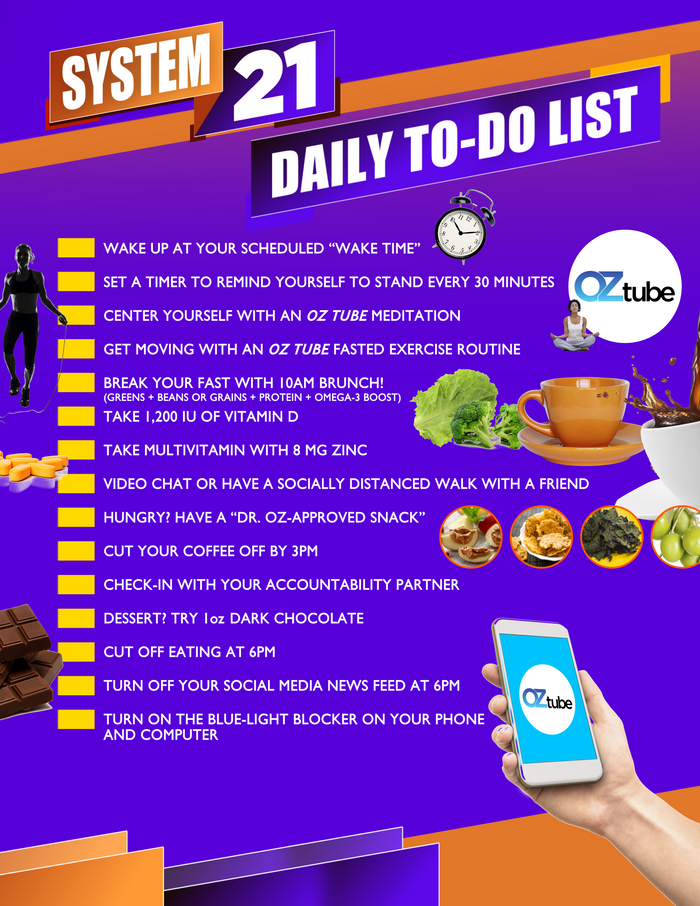 Download and print our Daily To-Do List below.
SYSTEM 21 TO-DO LIST.pdf
Your System 21 Snack List
Craving something sweet? How about salty? We've got you covered with these healthy but still delicious treats!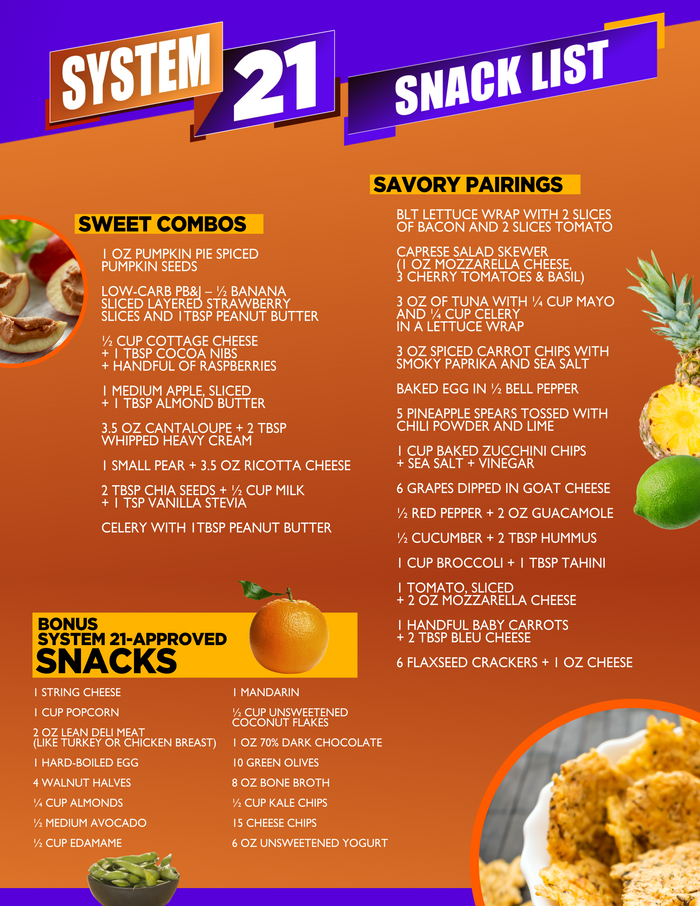 Download and print our Snack List below.
SYSTEM 21 SNACK LIST.pdf



Source: https://www.doctoroz.com/system-21